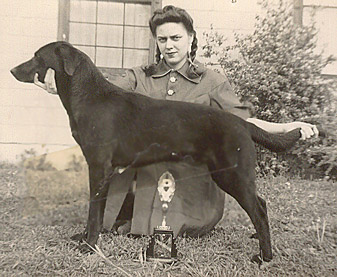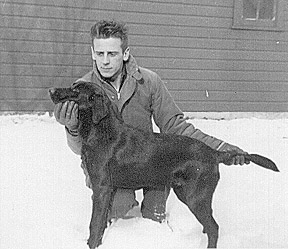 I am what some might call a second generation dog person. The pictures on this page are my mom and dad and their labs. I probably took my first steps at some type of dog event. As we grew, because of the number of children in my family, mom and dad stopped showing and raised kids instead. But, we always had two or three dogs. I am the only breeder out of all my brothers and sisters, although they all have a number of pets.
When I decided to start breeding, it wasn't with the idea to "start" breeding. It was to start breeding healthy long lived dogs. It was to get back to the life of showing, the rewards of training and winning with my dog. The joys of me and my dog accomplishing more and more. Of course over the years that is now plural, "dogs". Our own kids took their first steps at dog events also. Brianne our daughter, is quite the accomplished handler and almost addicted to the thrill of showing. And as a dog breeder I got quite the thrill of her little baby taking his first careful walk at a recent show.
Dogs have a way of becoming an actual way of life. Every aspect of our everyday life involves the dogs somehow. This may be as simple as feeding and daily care or the art of raising a healthy and well adjusted litter to go out into the world and make us proud. We are most proud of every single puppy that leaves us for their new homes to become pampered pets, and most proud of the ones that stay here with us to become the new future of Asoro's. Thanks for visiting with us.